Starting a salon needs equipment, skilled labor, and a perfect location, but this is a one-time investment. After this, you could retain the clients and grow your business gradually. This is considered a very good business in Lahore. Millions of people need a haircut and stylish view daily, and this shows a significant growth in this business. Moreover, salons provide personal grooming, fashion, and other services that are related to the beauty of the person.
In Lahore, salons are working and earning a lot; this is because very few of the salons are operating in Lahore, efficiently. The efficiency and effectiveness of the salon matter a lot, and if you successfully retain these two things, you will have more customers. You can get waxing, nail shaping, eyebrows shaping, manicure, pedicures, hair coloring, and styling services. These are mandatory to keep your body healthy and attractive. So, all the youngsters love to go to salons in Lahore.
Visit Rise and Beam
Results of salons in Lahore are up to the mark
There are very few salons in Lahore that are working system so that their services are up to the mark. They are well-equipped and hired skilled and technical employees for performing each job of the salon. Dedicated employees for the tasks with expertise make them different from others. So, your salon should have expert employees, and it should be equipped well with machines and relevant gadgets. All these gadgets should be in a sufficient amount and modern. Outdated equipment of the salon leads to frustration, and wasting your precious time also results in bearing the maintenance cost. Salons with proper equipment are efficient and provide the best results.
Perfect employees are delivering their expertise to the customers
Salons that have skilled staff are delivering up to the mark and the most stylish look to the customers. Their portfolios and selected styles let their customers find the most suitable one for them. So, you can choose the best one for you and get the deal discount as well. Skilled employees are delivering the best to the clients and retaining them. Such employees are; managers, stylists, waxing stylists, facialists, receptionists, and caretakers. Without having skilled and perfect employees, a salon could not deliver satisfactory results. In addition to this, your employees should be sufficient in numbers. So that no customers have to wait for the turn.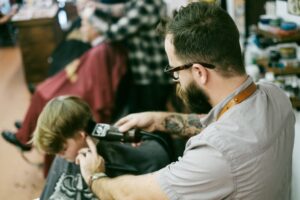 Opportunities and challenges in the salon
There are lots of opportunities and challenges as well for the salons in Lahore. There is not a single app working in Pakistan that provides online booking of salons. There is room for improvement and you can get the chance to build it. So, people could book their time at the salon. This will save time and provide frustration-free management for them.
On the other hand, there are many challenges for the salon in Lahore. Government sector license and tax imposition on them is a challenge for them to tackle. And it is difficult for small-scale salons to generate huge profits and pay taxes. The next problem for the salons; is the availability of standard cosmetic items. There are lots of fake brands and Chinese products that are not up to the mark. Especially when we are talking about the products for the face and body. So, finding the original products is another challenge for salons.
Salons are earning huge profits, but they are also facing many challenges. This sector is marginalizing in Pakistan; there is a lot of room for improvement. Skilled labor and perfect employees are mandatory for this business with the proper location of the business.