USGA defines a scratch golfer as "a player who can play to a Course Handicap of zero on any and all rated golf courses". But in simple terms, a scratch golfer is damn good at the game of golf. Statistically, just around 2% of all golf players are scratch golfers. Dallas golf clubs have a long history, starting in 1896 and still going strong. That means that quite a few scratch golfers live and play around Dallas. By the rule of demand and supply there also must be quite a few scratch golf clubs, but is it really that way? There are a lot of golf clubs in and around Dallas, but not all clubs are created equal. Let's discuss some of the best and most well-established Dallas golf clubs for scratch golfers, with the addition of a potential game-changing newcomer – Scratch Golf Club.
For most parts of this 100+ years of history, golf was played outdoors, on green fields that starched around the city. With the help of modern technology, among a huge variety of Dallas golf clubs – screen golf clubs are becoming more and more popular. Still, it just would not be right not to mention some of those country clubs, that made Dallas a paradise for golf aficionados.
Dallas County Club
Opened in 1896, Dallas County Club was what you call the pioneer of golf around the city. Located on the banks of Turtle Creek, this club can offer anything that a scratch golfer desires. However, heritage and exclusivity come at a high price, as initiation fees stand well above 100K with monthly dues of a few hundred dollars.
Even other, less exclusive, and newer country clubs, like Brookhaven Country Club,  come with a few thousand dollar initiation fees, not to mention the natural shortcomings that outdoor clubs are facing. Becoming a scratch golfer and maintaining the status is not easy. Some estimate that 3 to 4 hours of practicing is necessary every day. But golf is a seasonal game, harsh winters, which are becoming more and more frequent in Texas, make practicing almost impossible. But that hiatus can be filled with visiting one of the simulator golf clubs that offer a great environment for scratch golfers, with a fraction of the prices.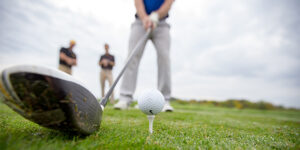 Integrity
This simulator golf club is equipped with Trackman technology to provide you with the most accurate data and analysis of your game. Professional coaches are experienced in helping golfers of all levels, from beginners to touring pros. Trackman technology provides you with detailed data and analysis of your game to help you identify areas for improvement and reach your goals.
8 Under Golf
As this establishment is located in Irving, it poses a problem on busy days.
Eight Under, however, is backed by Mike Burry and offers the same TrackMan technology, with five golfing bays, and allows golfers to play on some of the world's most famous golf courses without stepping foot outside.
Scratch Golf Club
Scratch Golf Club is found in downtown Dallas. It comes with the comfort of online booking, an affordable price tag, and a 1-hour free session to clear any doubt and make sure everything is up to your enjoyment. Scratch Golf Club uses TrackMan 4 system, with over 40 data points, accessible right away after each swing to analyze information and refine your skills. Dual radar technology ensures exactness inside 1 foot of blunder. 72-degree views and 164 interesting golf courses make this experience diverse and challenging. Bay booking can be done online, after which you'll be able to bring any number of visitors, 24/7. Scratch Golf Club offers a locker, which you'll be able to lease for a little expense and take off any hardware for another time. And most importantly, you can bring your nourishment and drinks with you!