Are you planning to start your own business? It is essential to keep in mind that owning a company might seem exciting and rewarding. In addition, if you don't start out on the right foot, it can be a challenging and intimidating experience. It's also not uncommon in the construction industry. If you have no experience in the construction sector but wish to start your own business, you have come to the right place. Today I'm going to share The Ultimate Guide To Construction Business In 2022. Keep reading and take a closer look at each point.
The Ultimate Guide To Start A Construction Business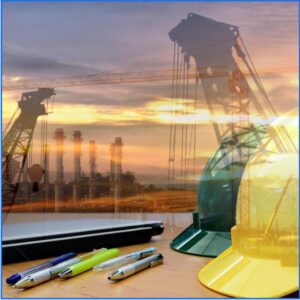 Figure 1- Construction Business
You should think very carefully before starting your own construction company. About 90% of construction companies fail within the first two years. This isn't because they aren't good at what they do, but because they don't have the right knowledge.
It is never easy to start a company. In this sense, starting a construction company is similar to starting a business. You'll need to plan and prepare a lot throughout the process if you want to be successful.
For establishing a construction firm in 2022, we need to know certain fundamentals and critical stages. Let's know them gradually.
Get a Basic Understanding of Construction
It doesn't matter what industry you're interested in, like jetty construction or sheet pile services. Taking the first steps to open your doors for the first time requires understanding the basics of business. There is no alternative to this. Unfortunately, over 68% of small business owners regret not learning the basics before starting. 
The process of starting a construction business is not the same as starting a car. To succeed takes planning, preparation, and perseverance, most of all. So make sure you can swim before you jump in with both feet. We are here to guide you through the process of determining what's best for you.
Research The Market In Your Area
When starting a construction company, it is important to research the local market. First, it is to determine whether operating a construction firm is a viable business venture in your area.
Find out whether your region's current construction businesses are meeting the residents' expectations. Find out how many companies there are in the area and their specialties, pricing, and reputations.
You can better understand your target customer base by knowing their demographics, hobbies, and other essential information.
Make A Business Plan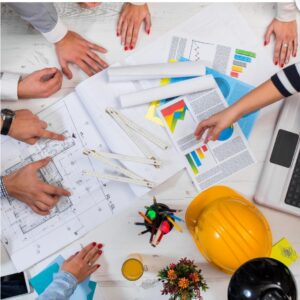 Figure 2- Construction Business Plan
Construction success won't come overnight; it requires dedication and countless hours of preparation. Building a business plan should be one of the first steps in devising a strategy. 
Even if the business plan serves no other purpose, it will serve as a guide for the company's entire existence. A successful construction business needs to have a great business plan as a road map.
Register Your Construction Company
In the next step, you must register your business with all the appropriate entities. Depending on where you live, the specifics of this process will vary from state to state. However, no matter where you live, you'll need to decide what type of business entity you'll register as. From sole proprietorships for individuals to LLCs and corporations for larger businesses, they come in all shapes and sizes. 
Depending on the size and scope of the construction project, construction companies are generally registered as corporations or LLCs. Your next step is to obtain an Employee Identification Number (EIN) from the IRS. Contact your local agency if you need to complete any other types of registration to ensure everything is in order. 
Organize Your Paperwork
The next step is probably the most frustrating when you're starting a new business, but it's also the most crucial. In order to operate in your state, you must obtain the necessary licenses, permits, and insurance.
This can include anything from general contractor's licenses to specialty licenses for specialties like roofing or HVAC. You will be legally able to operate in your state when you are licensed and registered, and your clients will be more likely to trust you if you are licensed and registered.
Get The Right Tools And Equipment
To complete projects on time and provide a wonderful customer experience, every construction company needs tools and heavy equipment.
The project will indeed be delayed if your employees have to wait for the appropriate tools and equipment.
When selecting proper tools and equipment, the best thing is to avoid cutting costs or margins since cheaper equipment may lead to a weaker structure and, in some cases, accidents.
Consult An Expert In This Area
I would suggest that if you are planning to launch a construction company, you speak to your friends and family members who have experience in the industry. As you go through this process, you will receive suggestions about where you should focus your efforts.
You may even be able to get assistance from them in starting your own business. Alternatively, you may also be able to obtain a more detailed guide from your college faculty or seniors if you wish.
Obtain The Right Funding
The next step in starting a construction company is to secure the funds you'll need. Buying or leasing equipment and cars, renting office space, and paying other relevant fees are necessary before starting a construction company.
To keep your construction company running smoothly, you may need to seek capital unless you have enough cash to cover the initial expenses. Fortunately, many financial institutions and lending institutions are willing to fund your startup.
Whether you need funding to purchase equipment or capital to start a construction company, these firms can help you get started with the right amount of cash.
Research The Regulations And Rules
When forming a construction firm, you must be aware of many industry-specific rules, regulations, and tax obligations.
As part of the Construction Industry Scheme, the government created a payment management system for contractors to manage subcontractor payments.
No matter whether you're a sole trader, a partnership, or a limited company, you'll need to register your firm under the Construction Industry Scheme.
Keep Health And Safety In Mind
There is no industry that can function effectively without appropriate health and safety protocols. It is, however, vital to have the proper health and safety standards for construction because of the nature of the job and its physical demands.
To perform your day-to-day work confidently and safely, you and your future workers will need relevant competencies and abilities.
It's your responsibility to ensure that your employees are adequately trained and informed about health and safety procedures.
Ensure Insurance Coverage
The construction company should also make sure that it has the appropriate insurance coverage in each state in addition to the proper licenses. The following six types of insurance are essential for any construction company, regardless of location:
General Liability Insurance

Property Insurance

Vehicle Insurance

Workers Compensation Insurance

Unemployment Insurance

Disability Insurance
Advertise With Smart Marketing
Now that your construction company has been established, it's time to reach out to the public. It does not have to be difficult to market your small business, especially if you are trying to do it yourself.
You can build on your online presence and local reputation as your business grows by understanding the fundamentals.
Final Verdict
Now that you have got a clear knowledge about The Ultimate Guide To Construction Business In 2022. This guide will help you make building a construction company a pleasant experience. 
By planning, preparing, and advertising your startup properly, you can make it more successful today and in the future. Building a successful construction business can be rewarding sooner rather than later.
For more interesting topics visit https://riseandbeam.com