The churidar salwar suits are one of the most favorite and evergreen outfits. It is a fitted suit that gives a taller and slimmer look to the wearer. When it comes to choosing a dress for weddings, parties, or any special event then a long and flared Anarkali is always the prior choice.
There are numerous patterns and designs of the attire that can be chosen as per your body type and occasion. Here are some of the Anarkali churidar suits that are printed or embroidered and can be worn on a casual basis and occasional basis as well.
Let's check out some of them starting from simple to heavy.
Cotton Anarkali Churidar Suit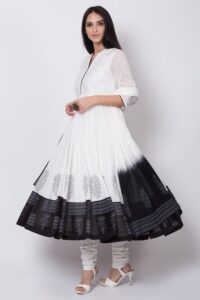 The elegant, graceful, and highly comfortable cotton Anarkali is perfect for bright and hot summer days. Cotton is a natural fiber that is soft and fluffy. It is pure cellulose that is grown under natural conditions, often spun into threads and yarns to make breathable textile.
A beautiful Anarkali suit in bright colors is eligible to give you an adoring look. You need to pair some beautiful accessories with the attire for a chic look.
Printed Anarkali Churidar Suit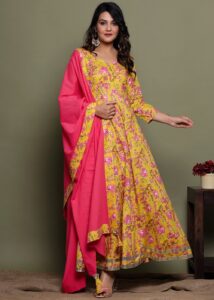 Printed suits are immensely popular as office wear or college wear outfit. A beautiful floral print kameez paired with a plain churidar or a block print kameez paired with a matching churidar and a pretty dupatta gives you a diva appeal.
A knee-length flared Anarkali having a round neckline and quarter sleeves gives you a delightful appeal. The wrinkles of the salwar will be perfectly showcased properly.
High neck Anarkali Churidar Suit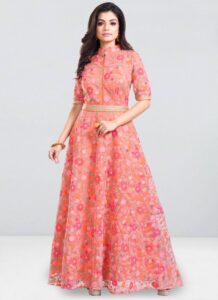 The high neck Anarkali with sheer embellishments and patchwork in front makes a beautiful salwar suit. The Kurti may have a stand collar neck or a closed neck that covers the collar bones giving a jewel effect to the wearer. The kameez may be ankle-length or may be knee-length with some pretty embellishments at the front and even the flare is decorated with some pearls or diamonds that give it a ravishing look.
Angrakha-style Anarkali Churidar Suit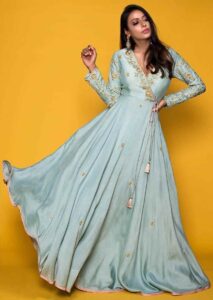 The traditional angrakha style Anarkali with a tie-up in front and a nice flare is a popular outfit. Pairing the kameez with a fitted churidar having several wrinkles at the ankle and a beautiful dupatta makes a sterling combination.
This one looks really amazing when worn at parties and festivals. This v-neck Anarkali is detailed with gold and silver zari work along with some shimmery laces and beautiful tassels. 
Colorful Anarkali Churidar Suit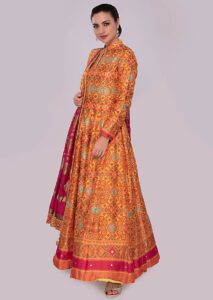 For a playful and bright appeal, you can opt for a colorful Anarkali suit with abstract prints or peacock prints are ideal picks. Pairing it with a matching churidar salwar and a gorgeous dupatta will give you a fashionista look. Wearing this attire at family gatherings or kitty parties will help you gather thousands of compliments. Pairing adequate accessories with the attire will give you a flawless look.
Anarkali Churidar with Contrast Dupatta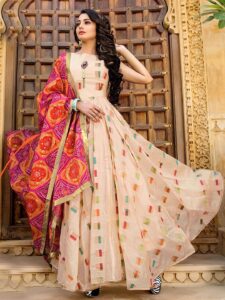 A plain silk Anarkali paired with a contrast Banarasi dupatta is breathtaking occasional wear. A pastel color salwar and kameez combined with a bright-colored dupatta and loose hair will make you the limelight of the event.
The dupatta is embroidered with golden threads making traditional motifs and giving the outfit a lurking look. A perfect blend of colors can do magic so make sure that you choose the best one.
Net Anarkali Churidar Suit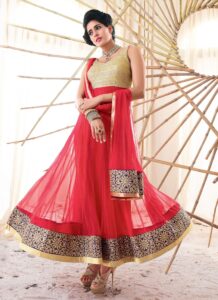 If you are willing to wear stylish ethnic attire at the party then you can surely choose a net Anarkali suit. The floor-length Anarkali with thread embroidery and pipings paired with the fitted salwar and a matching dupatta will be a drastic pick.
You can wear this one at a wedding reception and engagement ceremony so that you get a glamorous diva look. A broad neckline with long sleeves and some alluring details gives it a minimalistic appeal.
Designer Anarkali Churidar Suit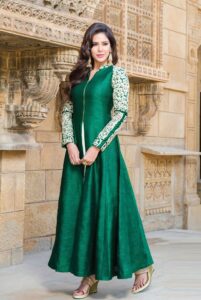 The heavily embellished designer Anarkali suit with beautiful laces and intricate embroidery work is a luxurious attire that is suitable for parties and wedding functions. If you are the bride then you will really look the best in this pretty designer Anarkali.
The lengthy one with zari details at the bottom and at the neckline with some adoring sleeves and tassels makes a dignified attire. Some traditional jewelry paired with it completes the entire chic look.
Fancy Anarkali Churidar Suit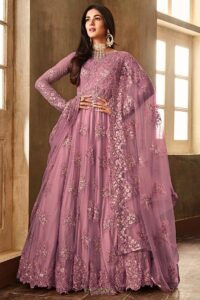 The gorgeous Anarkali churidar suit with a beautiful flare and a slit in front will make a fancy and unique attire. It is decorated with intricate and sheer embellishments with a dignified neckline and stylish sleeves that are just eye-catchy.
A long kameez having length below the ankle paired with a fitted churidar salwar and a matching dupatta makes a highly effective attire. Wearing it at evening parties with a pair of heels makes a minimalistic combination.
Jacket-style Anarkali Churidar Suit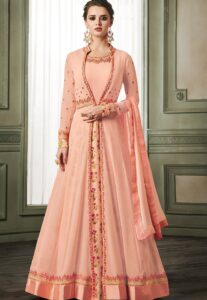 To add a charm to your outfit you should pair a beautifully embellished jacket with it. You can opt for a short waist-length jacket or a long ankle-length jacket as per the patterns and designs of the attire.
The jacket can be made of a thick jacquard fabric or a playful georgette fabric to get a diva appeal. It may have tie-ups in front with hanging tassels and beads or can be an open jacket with delicate and sheer details.
Double-layered Anarkali Churidar Suit
The flare of the attire is the most attractive and amazing part. A two-layered Anarkali is an appropriate pick for special occasions. The dress with a heavy jacquard layer at the bottom and a lightweight net upper layer gives it an exemplary appeal. This floor-length attire hides the salwar giving a full-fledged ethnic look whenever you wear it. You just need to choose the right color and designs for yourself. If you love these salwar suits then we have salwar suits for girls in an amazing collection.
Each and every attire listed above are eligible to provide you a modish appeal. You can choose it for the upcoming festive season or select it on an occasional basis. Some pretty accessories paired with it will complete the overall look.