After spending a few days in Jodhpur, I travelled to Jaisalmer. The first thing I noticed upon arrival was how clean Jaisalmer is in comparison to other Indian cities!
Nearly all of the houses and temples in Jaisalmer, which is situated in the Thar desert, the Great Indian desert, are composed of exquisitely carved sandstone. The village below the fort and its architecture both reflect a golden-yellow light, which is how Jaisalmer earned the name "The Golden City of India."
But how to reach Jaisalmer?
There are two routes to reach Jaisalmer, one from Jaipur and one from Jodhpur.
From Jodhpur
BY CAR
The distance between the two cities may be travelled in 4,5 hours on average by car, and there are national highways between them.
BY BUS
There are several buses that go daily between Jodhpur and Jaisalmer on the Main Pal Road in Jodhpur.
BY TRAIN
The travel time between Jodhpur and Jaisalmer by train takes approximately 5 hours, with an average of 9 trains per day.
FROM JAIPUR
BY CAR
It takes 10 hours to drive from Jaipur to Jaisalmer, and it's crucial to note that few private drivers choose this route because it's so long.
BY BUS
A bus travels with very ease from Jaipur to Jaisalmer in 9 hours. India's traffic, roads, and climatic factors all affect how long it takes to travel.
Why to go to Jaisalmer?
The Golden City of Jaisalmer will take you back in time. You'll feel like a star of "Arabian Nights" in no time as you quickly become a part of the community.
Nearly one-fourth of the residents of the old city of Jaisalmer still claim the fort home, making it one of the few remaining forts in the world.
Jaisalmer is far less crowded than other cities in Rajasthan. It's the ideal location to unwind your adventure through Rajasthan.
When should you plan for Jaisalmer
Deep in the Thar Desert, Jaisalmer is renowned for its extreme temperature variations. It can be extremely hot during the day, and it can get freezing at night.
The winter season, which lasts from November to March, is the ideal time to explore Jaisalmer. Due to the constant range of temperatures between 5°C and 24°C, sightseeing and other outdoor activities like camel rides and desert safari are more pleasurable at this period.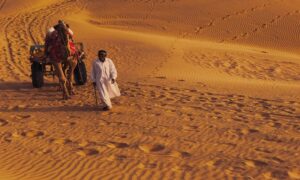 Where you can stay in Jaisalmer?
Welcome Heritage Mandir Palace
The magnificent Welcome Heritage Mandir Palace, which was constructed for the royals, houses The Badal Vilas. The Palace might be considered a work of art that showcases the skills of regional craftsmen.
Garh Meera
For those looking for affordable lodging in Jaisalmer, Garh Meera is a fantastic option.
It's a fantastic hostel located beneath the fort, and the cafe serves wonderful food while providing a view.
Where can you see The Real Jaisalmer?
Jaisalmer Fort
One of the first sites you should go is the Jaisalmer Fort. Over a fourth of the original population still resides here, making it one of the last "living forts" in existence.
This fort is not like the majority of forts in India, which are closely guarded and charge admission. Since the Jaisalmer Fort is a city inside a fort, admission is absolutely free, and it is always open.
For the most breathtaking, hazy perspective of the city, head there early in the morning. If you're not a morning person, come here at sunset and you'll see for yourself why Jaisalmer is known as India's "Golden City."
Gadisar Lake
The Gadisar lake, also called Gadi Sagar lake, is a man-made reservoir in Jaisalmer that formerly served as the city's sole water source.
It was one of the most extraordinary and magical spots I saw in Jaisalmer. Local fishermen are lounging by their little boats and the temples appear to be floating on the water.
You can either take a boat ride or just take a leisurely stroll around the lake's banks, which are lined with shrines, temples, ghats, and chattris.
It's one of the best things to do in Jaisalmer first thing in the morning!
Jain Temples
The Jain temples of Jaisalmer, which were built in the 12th century in the Diwala style, were built by Jains. They are regarded as some of the finest and most exquisite Jain temples in the world.
These Jain temples intricate architectural design is what I like most about them. Beautiful sculptures and carvings of people and animals adorn the walls.
The Astapadhi Temple, one of the most well-known Jain temples, is located in the Jaisalmer fort. Although it's a little hidden away in one of the fort's numerous alleyways, there are numerous signs leading you in the right direction all throughout the city.
Bada Bagh
A more unusual thing to do in Jaisalmer is to visit Bada Bagh, also known as the Barra Bagh Temple, a garden complex. It will take some driving because it is 7 kilometres north of Jaisalmer on a hilltop.
It has a number of chatris, or royal cenotaphs, of Jaisalmer Maharajas. The cenotaphs in this area all include gorgeous horse sculptures of leaders and exquisitely carved ceilings.
Visit this stunning location in Jaisalmer to enjoy the sunset!
Thar Desert
The Great Indian Desert, also known as the Thar Desert, which forms the natural boundary between India and Pakistan.
One of the top things to do when visiting Jaisalmer is to explore the Thar Desert or spend an overnight stay there.
You can have a bonfire meal under the stars or take a camel ride along the sand dunes.
Kuldhara
17 kilometres from Jaisalmer is the abandoned settlement of Kuldhara, which dates back to the 13th century. And around 300 years ago, it was a thriving Paliwal Brahmin village that was part of the Jaisalmer state.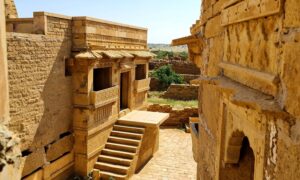 Kuldhara is reputed to be a ghost town that is haunted. In accordance with the narrative, the state minister was adamant about his intention to marry village chief's daughter. If the town did not comply with his request, he even threatened them with dire consequences. However, the entire town refused to comply with his request and left their homes, leaving Kuldhara empty by morning.
Tazia Tower
The Badal Palace complex has the Tazia tower, which is renowned for its magnificent architecture. The tower has five stories, and each one has important information about the royal families who have resided there.
Tazia's captivating tower was built in 1886 AD. It was constructed as a present for the ancient Hindu king.
Conclusion
Even though I've made numerous trips to Jaipur, Pushkar, Jodhpur, and Udaipur, none of them come close to Jaisalmer's breathtaking golden city.
I was stunned and my heart stopped as soon as I pulled in. It appeared as though I had travelled back in time a few centuries.