Jai Shri Ram! The Mehandipur Balaji temple dedicated to Ram devotee Hanuman is located in the Dausa district of Rajasthan. Mehandipur Balaji Dham is considered one of the renowned Hindu temples of India. Because of this, devotees travel from all over the globe to this place for darshan. People, however, also offer Sawamani Prasad when their prior requests at the Mehandipur Balaji temple are fulfilled. Many forms of Bhog Prasad, especially the Rajasthani speciality Dal Baati Churma, are considered in the Mehandipur Balaji Sawamani.
A huge number of visitors came to the miraculous temple of Shree Mehadipur Balaji, every day. Most of the devotees gather here, especially on Tuesdays and Saturdays. Anybody who has been possessed by an evil spirit is said to be cured of all ghostly problems at the Mehandipur Balaji temple. Moreover, special preparations are also made for the Sawamani and Bhog Prasad inside the temple.
We are providing you with some key information about the history of the Mehandipur Balaji Temple in today's Blog. But, before moving further, let's quickly discuss the significant deities that are worshipped in this temple.
Which deities are worshiped in Mehandipur Balaji?
Three important deities and their idols are worshipped inside the Mehendipur Balaji Dham temple. Pretraj Sarkar, Balaji, and Bhairav Baba are the three idols that are most commonly worshipped. The devotees visit Pretraj Sarkar first, followed by Balaji Maharaj and Bhairav Baba.
History of Shree Mehandipur Balaji Temple
Around 1008 years ago, these three gods first emerged in this place. From their arrival till this moment, twelve Mahants have performed holy worship at the Mehandipur Balaji temple. Three of these twelve Mahants are still working at Balaji Maharaj's sacred shrine. The period of improvement in this area began under the reign of Shri Ganeshpuri Ji Maharaj, and it is still growing daily. He oversaw the construction of the main temple. The Dharamshalas were all constructed during his tenure. Hence, his time in service would be remembered as Shri Balaji Ghata Mehandipur's golden age.
It is believed that the history of Mehandipur Balaji Dham is thousand years old. One day, three major deities came in the dream of one of the major mahants of this temple named Ghanta Wale Baba. This was considered the first signal to construct Mehnadipur Balaji Dham.
He reportedly experienced the same feeling before the dream came. In that dream, he saw a dense forest at the place of Mehandipur Dham, where many wild animals used to reside.
During his dream, he stood up and started screaming. Then he started walking and reached some unknown place. There he observed an army going ahead with elephants and horses and thousands of lanterns shining in the area. He then shook his head in front of the army. After this, he returned to his place. He then became terrified after seeing all of this in his head.
The incident kept flashing before his eyes.
In his next dream, he heard a strange sound that ordered him to establish a temple there and accept the duty to serve that temple. He didn't focus much on this dream, though. He assumed it was merely a dream.
Eventually, Shri Balaji Maharaj came before him and instructed him to begin the worship. As per Balaji Maharaj's instruction, he starts digging the place where the idols were kept. After that, Mahant told the whole incident to all the people in the village.
Then they altogether built a small temple and establish the idols of Balaji Maharaja, Pret Raj Sarkar, and Shri Bhairava Ji in the Mehandipur region. Some magic happened as soon as those idols were established in that region. Later, a big temple was constructed which gained popularity as Mehandipur Balaji Temple.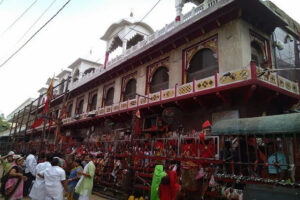 Timings of Mehandipur Balaji Temple
Here are the opening-closing and Aarti timings of Shree Mehandipur Balaji Dham:-
Temple Opening Time-
6:00 A.M.
Summer Aarti Timings-
6:15 A.M. – 6:45 A.M. (Morning)
7:15 P.M. – 7:45 P.M. (Evening)
Winter Aarti Timings-
6:10 A.M. -6:25 A.M. (Morning)
6:20 P.M.-6:35 P.M.  (Evening)
Temple Closing Time-
9:00 P.M.
Rules to follow when visiting the Mehandipur Balaji Temple-
Do not take eatables inside the temple.
Don't make fun of anyone's suffering in the premises of the temple.
Avoid approaching and interacting with outsiders, within the temple.
Don't carry any form of Sweets or prasad with you inside the temple.
Do not turn back when you heard something while returning from the temple.
Say NO to Meat, onion, and, any other Tamsik food before visiting the temple.
Conclusion-
So, in this Blog we have described a brief yet important history of this miraculous Mehandipur Balaji Temple. However, there are certain rules which one needs to know before visiting this well-known mandir of Rajasthan. It is claimed that with the grace of Mehandipur Balaji Maharaj, those who have tantric, mantric, and other upper powers also recover from their illnesses without the use of medication. This temple of Balaji Maharaj is well-known across the world for its ability to alleviate ghosts and other upper barriers. Most of the devotees offer Bhog Prasad, Chola and Sawamani at the temple. Mehandipur Balaji Sawamani is most commonly offered in the darbaar of Balaji Maharaj.