It is very important to know how long you should wear headphones a day. Why is it important? It is important because you do not want to cause any damage to your ear. Aside from causing damage to it, you do not want to have any hearing loss. Knowing how loud and how long you should have your headphones on could help you save your ears from any danger and still be able to use them in a very safe way.
Sound Causing Hear Loss
We all know that one of the reasons people get hearing loss is because of loud sounds. With headphones, we have to be careful with how loud we hear our music, calls, games, etc. It all comes to how sensitive our ears can be. Our ears have hair cells in which they transfer sound from the ears to the brain. Loud sounds can affect the transmitting of sound because loud sounds can harm the hair cells. The way loud sounds affect the hair cells by them losing their sensitivity to vibrations which can bend or fold them and then that can lead to temporary to permanent hearing loss. Loud sounds can also affect the connection of the hair cells with the nerve cells even with the fact of the hair cells remaining normal. This is why it is important to watch the volume of the sound you are using when using your headphones.
Safest Volume
Loud volume can lead you to hearing loss! It is said that we shouldn't be turning up the volume to 60% of the maximum volume. Also, we shouldn't be listening or using our headphones for more than an hour a day; but the louder you want your volume to be then the less amount of time it would be for you to use your headphones. If you are the type of person that just wants to cancel out the noise around you then you should get noise-isolating earbuds or noise-canceling headphones. Noise-isolating earbuds and noise-canceling headphones are very ideal because you can enjoy your music without damaging your hearing. They are perfect because then you don't have to turn up the volume to cancel out background noise. Although they may be ideal you still should just use them an hour a day and keep the volume up to 60%!
How Long Is Too Long
The Occupational Safety and Health Administration (OSHA) has stated the employers should have hearing protection when employees are exposed to use 85 dB(Decibels) for more than 8 hours. You could listen to music or use your headphones at a comfortable volume if you want to use them for more than an hour. If you use your headphones and turn up the volume very loudly then there are chances of damaging your ears in less than an hour. Also, Swedish researchers found that people who listened to the music of their headphones for more than three hours suffer from tinnitus. Tinnitus is a ringing in the ears. This is why it is important how long is too long when using headphones on a daily.
Preventing Negative Effects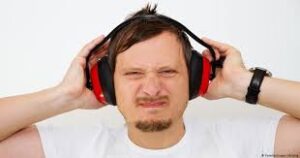 There are a few things you can do to prevent hearing loss or damage to your ears if you are using your headphones for longer than an hour per day! One of them would be to use noise-canceling headphones or noise-isolation earbuds. Another one would be to take breaks or just lower the volume of your headphones now and then especially if you have to use them for work. Cleaning the surface of your headphones is also very important so then whatever is left on your headphones is all cleaned up and doesn't enter your ears. Other than that you should be fine, but it is also important to get your ears checked now and then by a professional.
Conclusion
To detect how low you should wear your headphones per day all depends on the volume you use. You have to consider and know how hearing loss can happen to you if you don't use your headphones properly. You have to be able to understand how loud sounds or a loud volume can damage your hair cells or the connections your hair cells have with other parts of your ear and your brain for you to be able to hear. Using your headphone at a safe volume which is up to 60% will prevent you from damaging your ears. But if you are using your headphones for longer than an hour there are tips that you can take to save your ears from being damaged! How long should you wear headphones per day? Well, that all depends on how loud you have your volume and how frequently you are getting your ears checked to see if they are damaged or not.