Your home's front door will be one of the first things people see when they visit your property, so it's essential to make sure you have one that looks inviting and makes your house stand out from the rest. But with all the different house front designs available, it can be hard to narrow down the best one to give your home that facelift you've been looking for.
From modern to traditional and everything in between, here are seven unique house front designs that will give your home an elegant and stylish new look.
1) Brick Patterns
A fresh coat of paint can work wonders on the outside of your home, but if you are looking for something with little more personality, consider brick patterns!
From classic red brick to modern geometric designs, there are endless possibilities. Plus, brick is durable and easy to maintain, making it a great option for busy homeowners.
Here are some styles get you started:
A stylish white house front design is sure to make a statement with crisp lines and beautiful arches. Add pops of color with landscaping or flowering vines.
Brick may be one of the most common materials used in house fronts today, but adding in some unique shapes will help make your house stand out from the rest!
2) Wood Paneling
Wood paneling is a classic house front designs that can give your home an instant facelift. It is easy to install and can be painted or stained to match your home's existing exterior. Plus, it is a great way to add extra curb appeal and value to your home.
If you're planning on selling soon, consider using wood paneling in your front entryway for buyers to fall in love with your property instantly. You may also want to consider installing columns at the front of your porch to make it appear larger than it is. You can find these items at local lumberyards or hardware stores, so they are easily accessible.
3) Stucco Walls
Incorporating plants into your house front design is a great way to add life and color to your home. Plus, plants can help filter out pollutants from the air, making your home healthier and more comfortable to live in.
Consider adding an arbor or trellis on either side of your entryway to give it an extra pop of greenery. When designing the space in front of your door, try not to make it too cluttered with items like pots and flowers that will block any natural light. It's best to place these items away from the entrance so they won't be in the way when you walk inside.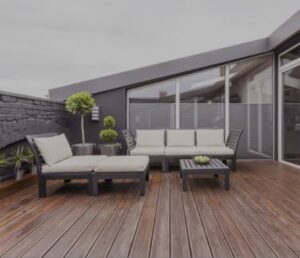 4) Slate Tiles
A classic and timeless choice, slate tiles can give your home an elegant look. They come in various colors, so you can find the perfect shade to complement your home's exterior. Slate tiles are also durable and easy to maintain, making them an excellent choice for busy families.
If you're looking for a unique house front designs, consider using slate tiles! These tiles come in various colors that match any style, from rustic cottages to modern homes.
The best part is that they are durable and easy to maintain. With these beautiful stones, you'll never have to worry about dirt or stains!
5) Design with Plants
Front yard is first thing guests see when they visit, so make a good impression by adding some greenery. Consider adding a few evergreens, colorful flowers, and maybe even a small vegetable garden. Plants are also great for privacy and can help block out noise from the street.
The greenery will not only make your home more welcoming, but it can also improve air quality. When most people think of house fronts, they imagine stone and brick.
But brick and stone work best when surrounded by plants or another green wall. Plants help with energy efficiency because they absorb carbon dioxide and release oxygen during photosynthesis.
6) Center Pillar house front designs
A home's front facade is the first thing guests see when they arrive, so make sure your house makes a good impression with one of these eye-catching design ideas. From stately columns to modern minimalists, every taste has a style. So take a look and get inspired!
If you're dreaming of your next home improvement project, start with how it will make guests feel when they arrive. From stately columns and traditional symmetry to modern minimalist designs, there are dozens of eye-catching front door options that can give your home a fresh facelift—and help impress friends and family.
7) Industrial Staircase Railing Section
An industrial staircase railing is a perfect way to add a touch of edge to your home. Staircase railings are available in various materials, including metal, glass, and wood.
When choosing an industrial staircase railing, consider the overall style of your home. For more modern look, opt for a sleek metal railing. If you prefer traditional look, go for a wooden or glass balustrade.
Whatever material you choose, pick a design that fits your style. And if you're looking for ideas to make your house front look fresh, check out these stunning designs below.
Conclusion
If you're looking for some house front designs ideas to give your home a fresh new look, you've come to the right place. In this blog post, we've shared seven different house front designs that will inspire you. From modern and minimalist designs to more traditional and classic looks, there's something for everyone.
Get started on giving your home facelift it deserves today! Whether you're considering adding curb appeal with some landscaping or renovating your kitchen and need inspiration, our house front designs are guaranteed to help you find the perfect new look for your space.