The electrical workers have the accurate experience and skills needed to safe conduct the electrical works. The electrical contractors handle all works related to electrical systems in different construction projects. Often, we term them as master electricians because they can handle a wide range of services at the same time. People tend to get confused them with the regular electricians that we might have been hiring until today. On this account, we have decided to shed light on the facts which set the electricians and contractors apart from one another.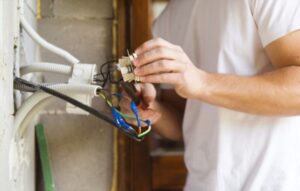 Who is an electrical contractor? What are his responsibilities?
Electrical contractors are professionals who usually work on large projects that will continue for weeks or months. You will find these contractors in construction areas, both residential and commercial.
The roles of an electrical contractor are:
To implement and install different electrical systems on large scale.
Installing power outlets, brackets, and other necessities for making the end-point terminals.
Establishing connection between the main electric supply systems for the newly installed one.
Checking for risks and signs of electrical failure on a large scale.
Dealing with high and low voltage cables for establishing power supply system.
Who is a general electrician? What does he do?
An electrician is a professional who handles smaller works daily. Sometimes, they can handle the complex circuitries but only when they have proper permit and license. They either work independently as a freelancing professional or with the master electrical contractors. Based on their certifications and licenses, an electrician usually handles:
Installing a new appliance in any residential place.
Repairing an electrical circuit and restoring the power flow in a limited area.
Renovating electrical circuits on small basis.
Providing emergency electrical services to both residential and commercial areas.
What kind of license and permit are necessary for electrician and electrical contractor?
It is very important for the electrical contractors to ensure that they have proper license and permits using which they can sign the deal with construction projects or large-scale electrical works. Also, it is expected that a contractor will know everything about electrical works and should have the ability to manage a team of base-level electricians.
The electricians do not need many licenses or permits. A basic knowledge and a fundamental certification will be enough for them to work under a firm or as an individual. You might not need a person who charges you a lot to just change the lights in your house. For petty issues like this hiring an unlicensed electrician is convenient but not suggested.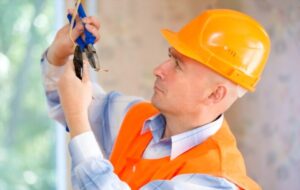 How to choose an electrical contractor or electrician?
With so many electrical contractors or electricians present, it can be a cumbersome process to have an appropriate pick. If you too are confused, check out these tips to help you know better.
Always check the experience of both the electrician and contractor before you make any decision.
Make sure that they are popular in the market so that you won't have any chance to regret later.
Browse through their services and check whether they can live up to your expectations or not.
Discussing about the prices and costs must be done before you make any decision.
In this article, we have presented the fundamental differences between choosing electrical contractors and the electricians. Contractors do not work on daily wage basis. Rather, their payments are made in accordance with the number of days they will work and the tasks to be done. So, if you face any kind of issue with electrical connections and lines, you won't make a mistake by choosing the wrong professional.