To launch your own web hosting business you have to buy such servers, all set up a network, get licenses, and many more, it is a long process to be done to start an online business but is it possible in just some moments, yes it can be possible by signing up for Reseller Hosting.
Reseller Hosting enables you to manage packages with the disk space and bandwidth, allocated with your main package. Its automation tools provide everything that you need to start, run and grow your web hosting business.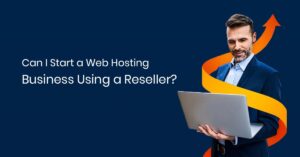 Reseller hosting is the form of hosting in which hosting businesses sell website space to other firms or a single customer, these firms resell storage space to others. So when firms get space at wholesale prices and they make attractive packages to the customers to resell to get profit. Now resellers will responsible for the business administration or customers' website. In the simpler form you buy web hosting services from a parent web hosting firm now you are a service provider with your own label to the next customer by many impressive offers.
What are The Features of Reseller Hosting?
A lot of companies offer packages designed for reselling their services. The main features of a reseller package provide by any hosting company are-
Disk space
Bandwidth
Account management
Domain hosting
Reseller hosts often offer additional services with the package to make them attractive. Graphics design, database programming, website design, digital marketing, and many additional things offered by reseller hosting providers. A reseller buys server responses in bulk and gets a discount.
What is Linux Reseller Hosting?
Linux Reseller Hosting is the topmost platform that allows you to host multiple clients. It provides you space to host and manages your orders independently. With Linux Reseller Hosting you can become a hosting provider with your brand name, now you can create plans for your customers without holding your server or data center. Linux Reseller Hosting is designed for users who want to host their customers.
What are The Features of Linux Reseller Hosting?
A secure, reliable, scalable services with modernity these features give rise to it and make it unique-
Host Unlimited Websites: There are a fixed number of cPanel accounts that can be created with every Linux reseller hosting plan so you can host multiple domains with a single cPanel account. You need not be required subdomains and add on-domains these all can be added to a single cPanel account.
Full SSD Storage: If you want a super-fast speed then SSD storage is all about you. Website stored on SSD servers speeds up the performance of your website.
Web Host Manager: With the cPanel's master tool WHM or web host manager you are allowed to create and manage multiple cPanel accounts with unlimited websites emails, databases, etc. You can also regulate so many smaller sites.
100% White Labeled: Ensure the visibility of your client and you as a provider so that you can sell products by your brand name.
One-click Installer: you can install any application which accessible with a single click within a second like WordPress, Joomla, Drupal, and many more. A powerful software tool, softaculas install all the application which is an auto-installed help you to integrate with cPanel.
cPanel Control Panel: handle and manage the server configuration by choosing Linux reseller hosting plans, you are entitled to control the disk space and bandwidth, and have full control on your clients account so that you can terminate, suspend accounts so utilize cPanel to its fullest by giving access to customers.
Malware Scan and Protection: Protect your website from malware with great responsibility, scan website daily to block viruses that can attack the system and create any hazard.
Data Centre Choice: You can choose the data center near your location to continue and flow less performance and safety of the server. Linux provides a data center almost spread all over the world so you are free to choose a datacentre according to your preferences which suit you.
Why You Choose a Reseller?
Linux Reseller Hosting with cPanel is easy to use and available in attractive price offers, so choose cheap Linux reseller hosting plans according to your needs and priorities. With Linux hosting, you can power your business with something that furnishes your website with super speed along with an intuitive control panel. Unlock the world of unlimited possibilities with reliable and promising Linux hosting in India. Cheap Linux reseller hosting plans in India has helped many customers and companies to achieve their business goal. Linux reseller hosting services increase flexibility, minimize downtime or 24 by 7 that assists you via live chat and ticket system so no technical issues with dealing Linux reseller India. Regardless of your situation, we provide the next level of resources to increase the steadfastness and performance of your websites.
Can I Start a Web Hosting Business with a Reseller?
Reseller hosting is a good flourish business in this digital revolution. So if you are looking to start a hosting business, Linux reseller hosting is the smart choice for you.
It offers numerous plans for a reseller, as a reseller you can charge as per your choice, here is a chance you to look and feel of your own company. You can experience unlimited bandwidth which moves traffic rapidly to your site and improve optimal performance. Speed denotes success Litespeed server cache helps the apps to run smoothly. If you are choosing cheap Linux reseller hosting, you can enjoy no hidden charges, no curing charges and provide you maintenance throughout the year so you need not worry about complicated server issues that allow managing all the aspects of your site quite effectively due to better control provided. An efficient technical support team offered you by the best Linux reseller hosting is always helpful.
So what are you waiting for? Just grab all the benefits that are provided with Linux Reseller hosting and, give a kick start to your web hosting business as a reseller.